Wisej Press Review in German dotnetpro Magazine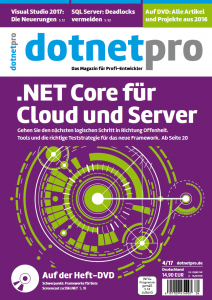 As our pace is picking up, Wisej is getting more and more attention. A detailed press coverage was just published in Germany by the well-known dotnetpro magazine in April of this year. The authors Dr. Veikko Krypczyk and Olena Bochkor take a close look at the workings of Wisej and explain how it can be used in different development and deployment scenarios.
Next to a step by step introduction they emphasize the core features of Wisej:
Tight integration with Visual Studio
Pixel-perfect designer
Flat learning curve
Elegant and clean design
Performance
Responsive features
Theming
They also explain how Wisej can be used to easily migrate existing WinForms apps to the web. But that's just one scenario out of many.